The Armed Man: A Mass for Peace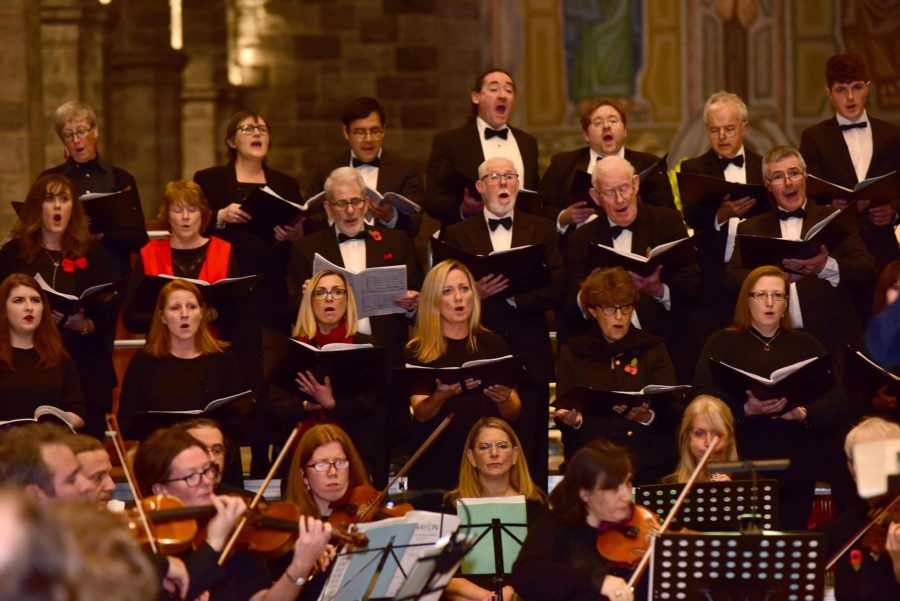 2018 was a very busy year for Cantairí Chonamara when we sang Karl Jenkins' 'The Armed Man: A Mass for Peace' to commemorate the 100th anniversary of the end of World War One.
In September 2018, we performed this work as part of Clifden Arts Festival, transforming Clifden Mart into a First World War air raid shelter. We joined forces with The Galway Tribal Chamber choir, under the direction of Dr Mark Keane, to perform a dramatised production of this powerful work, which highlights the terrible agonies and futility of war.
Vivid projections of war and related imagery, provided by Kevin Glynn, of Big Ideas Films, further enhanced the audiences' experiences of the drama, as the music took them through the preparation for war, the horrors of the battles, through to the final cry for peace.
We were fortunate to have another opportunity to sing this work, again with Galway Tribal choir, in the Galway Cathedral, most fittingly on Remembrance Sunday. This was a more formal and sombre occasion than in the Mart, and the choirs also performed Haydn's 'Mass in a Time of War' in the Cathedral.
Earlier in the year, 7 members of Cantairí Chonamara travelled to London to join in a mass chorus of over 1,000 singers performing 'The Armed Man' in the Royal Albert Hall on 20 May 2018. This performance was organised by the Really Big Chorus, the UK's largest choral society, which promotes regular grand-scale concerts at the Royal Albert Hall. These are open to any choirs or individuals who know the music and are able to perform the piece following just one rehearsal in the afternoon of the performance.  It was a fantastic experience for all of us who were able to join this – it's not every day you get to sing woth well over a thousand other people is such a gran venue – not to be missed!